#881
on
January 26, 2011
at
12:15 am
PLEASE NOTE! – I SCREWED UP! IHL 880 WAS A MISTAKE UPLOAD… THE WRONG FILE WENT UP! STUPID STUPID ME! THE REAL COMIC IS UP NOW… UGH!
Hey everyone! It's incentive day!
What does that mean?
It means that you get to spread the word of IHL… post today's comic (or your favorite.. or a review.. or something along those lines that get people to this site)… and tell me about it. Where? HERE! Or my FACEBOOK… or EMAIL.. or TWITTER (which is the last place I'll notice, fyi) – and make sure I know how to reach you and you will get the full size version of this: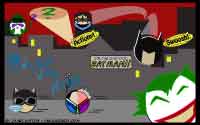 That's right – if you can't see it.. that's an IHL themed Batman desktop featuring Batman, Nightwing, Joker, Catwoman, Two-Face, and a special appearance by one of IHL's characters dressed up as a villain. It's BIFF-KAPOWY… Ya dig?
Ok, so go out there and pimp me like a sonovabich for free crap!
3 .. 2.. 1… GOOoooOOOO SHAMELESS!
Jamie